The Gardening Guru TM
gardeningguru@juno.com
The Gardening Guru
Mahwah, NJ 07430
The Gardening Guru's Book Review
I have created this web page to help "steer" you through the incredible amount of horticultural books that are available to you, to give you an idea of which books are worth purchasing, and which ones you are better off reading at your local library or bookstore for free. Remember, even the Gardening Guru admits that he does not know everything about gardening. Life is a continual learning experience, and so it is with gardening. This month's book review is:

Gardening In Eden

The Joys of Planning and Tending a Garden

by Arthur T. Vanderbilt II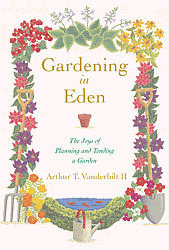 Let me begin by saying that if you are looking for a technical book filled with Latin, this is not the book for you. On the other end of the spectrum, if you are looking for some reassurance in your garden when things are tough and imposing, this is the book for you. Mr. Vanderbilt has captured every gardener's trials and tribulations, and presents it in a humorous and light-hearted fashion. If there is one thing I have tried to communicate through this website, it is that we ALL have gone through the same difficulties in our gardens, and when you e-mail me a question, it is usually through my experience that I have an answer for you. The book starts in the dreary month of January, and spans the seasons in the life of every gardener: the winter of patiently waiting and planning; the spring fever; the lushness of summer; and the September song of fall. Here are a few examples of his writing style.
The importance of persistence: Any serious gardener could give courses in persistence. At one time or another, everything will go wrong, and sometimes everything will go wrong at once. And yet the gardener will be back out there every time, looking for the world like Churchill after Dunkirk, the determined gaze, chin thrust forward, wielding a trowel and clippers, growling in word and tone not subject misunderstanding: 'We shall never surrender.'
His gardening grandparents and their precious legacy: Gardens, those most fragile and transitory works of art, certainly can't be bequeathed, but aren't they where our own gardens come from? Aren't our gardens assembled fragments of our dreams and daydreams, our memories, images, and visions, remembrances of times past, fantasies, pieces of paradise we try to re-create?
The wiles of weeds: There is an art to spotting weeds before they do their damage, of learning all their deceits, how the clever ones will grow close to your plants and twist themselves in and learn how to look like them; how some, like poison ivy, are masters of disguise and appear in different parts of the property in different costumes.
Reading this book was like sitting down with an old friend, comparing notes on what has changed in our gardens from the last time we met. I'm sure you will enjoy this reading this book, and going back to it every time you find yourself in a difficult gardening position.
If you would like this reviewed copy of Gardening in Eden, a retail value of $23.00 for free (Courtesy of Vanderbilt Books and The Gardening Guru), please send an email including your name and mailing address with Gardening Book contest in the subject line to gardeningguru@juno.com. The winner will be notified by email on March 31, 2004, and must agree to have their name and state publicized on the Gardening Guru's web site. Good Luck and Good Gardening! Dave