The Gardening Guru
gardeningguru@juno.com
David Daehnke
Mahwah, NJ 07430
The Gardening Guru's Innovative Products Page
What is the most treasured tool in your collection (keep your minds out of the gutter men!). Is it your favorite trowel, or is it a spade that was passed down from generation to generation? Is it a high wheel cultivator or your new tractor? Even though I have a cherished spade that I have described many a time on these pages, the most treasured gardening tool we all have in common is our hands. I will be the first one to admit that I don't take the best care of my hands. Heck, I don't even wear gloves to protect my hands. Gardening gloves are too bulky, and just too cumbersome to me. I couldn't feel what I was doing, and actually pruned my finger once (just a slice, nothing to concern yourselves with). Well, just as people always change their mind, I have found something that made me change my opinion on gardening gloves.
MEET THE BIONIC GLOVES
I received a pair of these gloves about three months ago and have literally tried to neglect them, but to no avail. In the past when I have used gloves, I always had the leather palm gloves with the knit cuff. By the end of a full day of gardening, the seams were coming apart and they were guaranteed to have at least one hole, usually in between the thumb and forefinger. These gloves have outlasted my efforts in an especially rainy spring, and after a wash, are close to being new again. The interesting part of these gloves is that they were designed by a hand surgeon (who better to design a glove?) and the thought behind them shows. From the velcro wrist closures, which do an excellent job of keeping soil and debris from getting into your glove, to the relief pads on each knuckle to help prevent blisters after a full day of use, these gloves have protection and comfort in mind. Even better they are made of soft Cabretta leather, which is washable. Just allow these gloves to air dry and they will be ready to go again.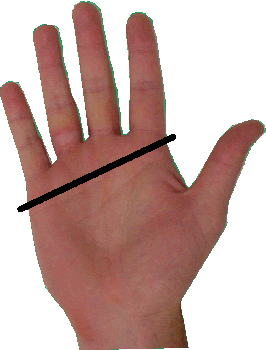 These gloves are custom made to fit your specific hand size, which means more comfort and workability for you. You can literally pick up dimes with these gloves, they fit so well. To measure your hand, just wrap a tape measure around the area above, and that is the measurement. I have to say that these even impressed the toughest critic I know, Mrs. Gardening Guru. The price for these gloves are $45, which at first may seem pricey, but let me do the math for you. If your like me and spend almost $50 on a dozen leather palm gloves with knit cuffs, and the last about one day of tough work, you can get two weeks of work for the same price of a years' worth of comfort can give you with these gloves. As you all know by now, my favorite motto is "You get what you pay for". In this case you get a whole lot more!

Their website is http://www.bionicgloves.com/ and they have secure online ordering to help simplify matters. I can honestly tell you that you won't be disappointed with thee gloves! Dave