ALL-AMERICA ROSE SELECTIONS FOR 2006
JULIA CHILD

Julia Child is a floribunda destined to be as famous as her namesake. Personally chosen by the award-winning chef herself, this rose combines old-fashioned style with delicious fragrance rarely found in a free-flowering plant. This rose has a rounded habit and excellent disease resistance, raising the bar for any English-style rose. Julia Child also features a sweet licorice perfume that exudes from each fully-petaled flower, as well as a butter-gold color that's perfectly suited to any landscape.
Hybridized by Tom Carruth and introduced by Weeks Roses of Upland, CA
RAINBOW SORBET
Rainbow SorbetTM is as cool and delicious as it sounds. This multicolor floribunda harkens back to the popular variety Playboy from which it is a descendant. More rugged and winter hardy, it shows a remarkable resistance to black spot. A symphony of bright color uninterrupted through the season, it is perfect as a single bold accent or as a border for those who like to make a statement in their garden.
Hybridized by Ping Lim, Rainbow Sorbet is being introduced by
The Conard-Pyle Company/Star Roses of West Grove, PA
TAHITIAN SUNSET

Tahitian Sunset offers a little slice of paradise. This brightly-hued hybrid tea features splendid blossoms starting from high-centered, orange-yellow buds that open fully to a
peachy apricot-pink with yellow highlights. The vigorous plant produces 14-16 inch stems and flowers with about 30 petals to create blooms up to five inches in diameter. With its complex color, delightful licorice fragrance and semi-glossy foliage, this perfectly formed rose makes a strong focal point in any garden.
Hybridized by Keith W. Zary and introduced by Jackson & Perkins of Medford, OR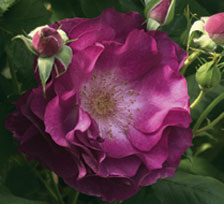 LADY ELSIE MAY
Wild Blue YonderTM offers a journey into uncharted territory.
The lavender blend is the first rose in this color range to garner the AARS designation since 1984. Every large wavy petal is a velvety warm wine-purple layered onto rich lavender, making Wild Blue Yonder a unique rose to behold. Each lovely blossom exudes the perfume of sweet citrus and rose. A vigorous 'shrubby' bush, its abundant, deep-green leaves provide the perfect accent to the extraordinarily novel color.
hybridized by Tom Carruth and introduced by Weeks Roses of Upland, CA
All-America Rose Selections is a non-profit association dedicated to the introduction and promotion of exceptional roses. Since 1938, the AARS trial program has encouraged the rose industry to improve the vitality, strength and beauty of roses for American home gardens. Today, the AARS program is one of the most successful and highly regarded of its kind, having brought to the forefront such roses as Peace, Mister Lincoln, Knock Out, and Bonica.