The Gardening Guru's

Plant-of-the-Month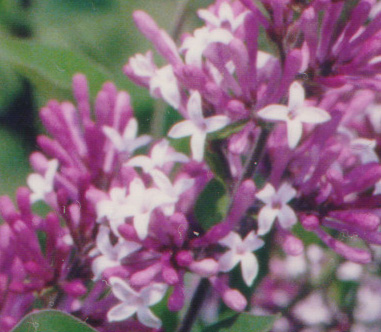 COLBY'S WISHING STAR
Syringa x 'Colby's Wishing Star'
For those of you who know my love of lilacs, know that I search for new and unusual varieties that I can add to my garden. A few years ago, I met a "gardening friend" at the Philadelphia Flower Show. His name is Frank Moro, owner of Select Plus Nursery, a lilac specialty nursery. After talking with him for a while, he told me of a very special lilac that that he was propagating. It was a dwarf, and only available at his nursery. Although he did not have any with him, I could order on-line and he would send me one of these "special" lilacs. I then found out why they were special. His son Colby was born with Down Syndrome, and it was the determination of Frank and his family to create a park for handicapped children with a portion of the proceeds from the sale of these lilacs. But I am getting ahead of myself. Let me give you a brief description of the lilac. This is a seedling offspring of Syringa x Josee.
The flowers are a pinkish lilac color. It is a dwarf reaching only 3.5 to 4 feet in height. It is very fragrant and has recurrent bloom in the season as does Josee. The shrub is very compact and dense and naturally has a rounded shape. It is hardy from zones 3-9 USDA. What I like most about this lilac is that the new dwarf varieties fit into anyone's garden, and are tremendous when planted near a window or doorway. In spring, the fragrance is to me, what spring is all about.
From Frank Moro:
"Our plan at our new farm is to construct a special park for handicapped children all sales from this lilac will go exclusively to help the construction of the park which we will start this year in 2003. The park will be wheelchair accessible and will have a variety of games, and sensory experiences to learn about fragrances and textures. The park will be open to families with handicapped children only. We have realized in the last months how little there is for children with special needs. Select Plus will maintain this park at it's expense in the future and we hope to have something special that families in the immediate area and all around can come and see as well as our future world class lilac collection in the spring.
Anyone who purchases a Colby's Wishing Star will also get a special commemorative pin of the lilac mailed to them as well.
Seeing handicapped children in the past for us was something we could not have identified any idea what parent's must have gone through on a daily basis. Now we realize that these parents are super beings and their children heroes to have the strength and courage to meet daily challenges.
Through the power of the web we have had lots of encouragement and have had the chance to learn about two special little twin girls that have Down's also named Brianna and Cassandra. Hopefully when the park is officially inaugurated they will be able with their parents to be present.
We have had only great responses for the park and hope that the community and governments will help us with this special project.
Colby has been an inspiration to our family and we hope many of you will raise to a good cause that we feel will be one of the first parks in North America of this sort."
An Update on the Park
Fall 2003 - 2 acres of land cleared for the park with many good shade trees conserved of a nice size diameter. We have applied for a non profit organization and the Park and organization will be called Colby's Wishing Star Park.
May 26 2004 - The official incorporation of the non profit park is registered.
July 23 2004 - The first lilac is planted at the park with honor to our son Syringa 'Colby's Wishing Star'
Just click on the link below to place your order for this worthwhile lilac, not only for your garden, but also for a park that will benefit many.
Remember never to collect plants from the wild. Most reputable garden centers and catalog nurseries will be able to supply you with the plant you are looking for. If you have any questions about certain plants, feel free to e-mail me at plants@thegardeningguru.com and I will answer your question as soon as possible!
PAST PLANTS OF THE MONTH
Hardy Rubber Tree - Eucommia ulmoides

Japanese Tree Lilac - Syringa reticulata
Umbrella Pine - Sciadopytis verticillata