The Gardening Guru's

Under-Utilized Plants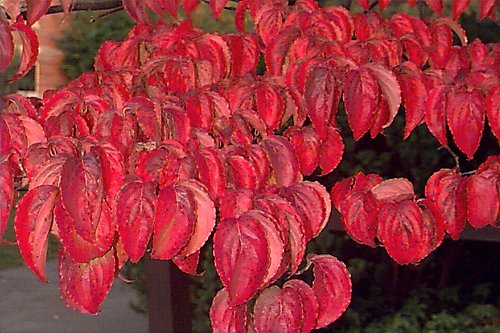 CORNUS KOUSA
Kousa Dogwood
Family - Cornaceae
Native to Japan, Korea and China, this specimen is hardy to zone 5. It is a small, deciduous tree reaching about 30 feet tall, with the spread or width equaling its height. When looking for a small tree to add to your landscape, you want to take into consideration its appeal during all the seasons, and this tree is a winner. In late spring, the tree is massed with white flowers that can last up to four weeks. In the summer, the layered effect of the medium green leaves will serve as a perfect backdrop to the hot colored perennials that can be planted in front or besides it. Late August through October, the tree has raspberry red hanging fruit similar to large raspberries. Autumn brings a show, with the leaves turning a red to reddish purple, lasting about two weeks. As the leaves fall, its bark is revealed showing and exfoliating mix of gray-tan and mahogany brown color, which is a highlight of this plant. All too often we are too concerned with the size and brightness of the colors of flowers, when we should be looking at the appeal of the plant throughout the entire year.
Kousa dogwoods grow best in full sun to partial shade. The key to having a healthy, strong tree is to make sure that your soil is high in organic matter (which can be accomplished by adding peat moss or leaf compost) and slightly acidic. Kousa dogwoods stand up better than our native dogwood Cornus florida during drought conditions, and are more resistant to anthracnose (a deadly disease that has devastated our than our native dogwoods).
Some more notable cultivars and varieties of kousa dogwood are;
'Beni Fuji' - This form bears the deepest red-pink flowers of any C. kousa cultivar, even stronger than 'Satomi'.
'Elizabeth Lustgarten' and 'Lustgarten Weeping' - Notable for their weeping habits, this duo of cultivars grow to 15' with branches that arch downwards and bear white blooms. The habit is rounded and gentle, thus a mature specimen is attractive.
'Gold Star' - The center of each leaf has a broad gold band on this cultivar, with stems that are somewhat reddish. It is relatively slow-growing, but in time does form a small-medium rounded tree. The flowers are white, and the contrast between the red fruit and gold-splashed foliage can be striking.
'Little Beauty' - This plant forms a small, densely branched tree that may never exceed 15' tall.
'Milky Way' - One of the most common cultivars in the trade, this selection is probably composed of over a dozen similar clones. The plant is extremely floriferous and sets a very heavy crop of fruit. When in bloom, the pure white flowers can conceal the foliage.
'Satomi' (also listed as 'Rosabella') - This is a very popular cultivar said to develop bright pink flowers. In the United States, however, the warm summers seem to dull the color. As a result, most plants bloom light pink or white-pink. The color can vary from season to season, but 'Beni Fuji' probably has deeper pink bracts.
'Snowboy' - This form sports gray-green leaves that are edged in white, with occasional splashes of variegation throughout the foliage. While the plant is attractive when well grown, it is very slow-growing and is best sited in a shady location to avoid leaf scorch.
'Temple Jewel' - This is an interesting variegated form with leaves that show a light marbling of green, gold and light pink that turns mostly green with age. It grows well to 20' tall and wider with a dense habit. The flowers are white.
'Wolf Eyes' - This is a very popular variegated form with leaves that show a uniform white margin. The leaf margins are often prominently wavy, as well. The variegation pattern is quite stable and resistant to burning, though a shaded planting site is still desirable. In fall, the leaves develop attractive pink to red coloration. The plant is shrubby and slow-growing, to 10' tall and wide.
Remember never to collect plants from the wild. Most reputable garden centers and catalog nurseries will be able to supply you with the plant you are looking for. If you have any questions about certain plants, feel free to e-mail me at plants@thegardeningguru.com and I will answer your question as soon as possible!
PAST PLANTS
Hardy Rubber Tree - Eucommia ulmoides
Japanese Tree Lilac - Syringa reticulata
Umbrella Pine - Sciadopytis verticillata