The Gardening Guru TM
gardeningguru@juno.com
The Gardening Guru
Mahwah, NJ 07430
The Gardening Guru's Book Review
I have created this web page to help "steer" you through the incredible amount of horticultural books that are available to you, to give you an idea of which books are worth purchasing, and which ones you are better off reading at your local library or bookstore for free. Remember, even the Gardening Guru admits that he does not know everything about gardening. Life is a continual learning experience, and so it is with gardening. This month's book review is:

New Jersey

The Natural State

by Dwight Hiscano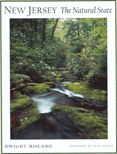 Before we get too far with the review of this book, I must tell you that I know Dwight personally. Actually, I have one of his photographs on my living room wall, and if you see a photo in this book that you are interested in having on your wall, visit his web site at Dwight Hiscano Photography. More importantly, Dwight has a gift of being able to capture nature in a photograph. Now this book covers New Jersey, and for all of you who think New Jersey is made up of either the NJ Turnpike, Garden State Parkway or Paramus Park Mall, this book will show you how wonderful New Jersey really is, the New Jersey that I know. Below is a little out take from his book, and hopefully will give you a little insight into this wonderful book.
"Photography here is a joy. Cascading waterfalls, pastoral meadows, high ridges, the rocky bulge of Mount Tamany and the majestic Delaware River all provide ample opportunities for the landscape photographer. . . . I see bears. I see bobcat prints in the snow, fossils and quartz crystals in the rock. I walk among chest high ferns and through thickets of mountain laurel that bloom so densely in June that the scene appears to have been covered by a freak snowfall. Wherever I shoot, I am surrounded by an enchanting landscape. And after returning home from a day of picture taking, I feel as if I've been gone for weeks. It's comforting to know that not only does such a place exist right here in New Jersey, but that so much of it has been permanently preserved," writes award-winning photographer Dwight Hiscano of his native state.
Were you surprised to find you were reading a description of New Jersey? If so, you aren't alone. Even many New Jerseyans don't realize their small state is home to some of the nation's most diverse and beautiful landscapes. From the Kittatinny Mountains in the north to the beaches of Cape May in the south, New Jersey overflows with natural beauty, and Hiscano captures it all with unparalleled artistry in this magnificent collection of more than 100 photos taken over the past decade. Brief section openers describe each region's history, physical features, and ecological importance.
In the spirit of Ansel Adams, who showed the world the previously overlooked magnificence of the Southwest, Hiscano allows us to view the state as never before, showing us its many splendors and varied seasons. His incomparable photographs are organized geographically-The Kittatinny Ridge and Valley, Highlands, Piedmont, Pine Barrens, and the shore. We view the state from its mountain tops and sand dunes. We see mighty oak trees and fragile wild roses. Waterfalls and beaver ponds. Snow-covered cedars and sun-drenched black-eyed susans. Sunrise and moonrise. Beauty in the most obvious and unexpected places. Hiscano's extraordinary portrayal of New Jersey in its most natural state also focuses our attention to the state's rapidly diminishing wildlands, and points out the urgent need to continue to preserve the landscape for future generations.
New Jersey photographer Dwight Hiscano has been shooting landscapes for nearly twenty years. Dwight's limited-edition prints are featured in exhibits, galleries, and museums in New Jersey, and in corporate and private collections throughout the United States.
Now if that description doesn't motivate you to get a copy of this book, I don't know what will. Oh, and yes, there are pictures taken at my work, The Reeves-Reed Arboretum.
If you would like this reviewed copy of New Jersey, The Natural State, a retail value of $39.00 for free (Courtesy of Rutgers University Press and The Gardening Guru), please send an email including your name and mailing address with Gardening Book contest in the subject line to gardeningguru@juno.com. The winner will be notified by email on September 30, 2004, and must agree to have their name and state publicized on the Gardening Guru's web site. Good Luck and Good Gardening! Dave
PAST REVIEWS
Flora: A Gardener's Encyclopedia