David Daehnke, The Gardening Guru
Mahwah, NJ 07430
gardeningguru@juno.com
The 2004 All American Daylily Winners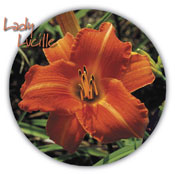 "Lady Lucille"
| | |
| --- | --- |
| | Large, Showy, Red-Orange Blooms |
| | Very Heat Tolerant |
| | Unsurpassed "Carrying Power" (Visibility) in the Landscape |
| | All-American Winner 2004 - Landscape Category |
| | 23 - 90 Bloom Days Per Year (Average 40 Days) |
This fiery beauty steals the show with rich, bright orange blooms that refuse to be ignored. Starting the show just as most other daylilies are winding down, Lady Lucille displays a sequence of flashy 5-6" diameter blooms on well branched 22-30" tall bloomstalks from summer into autumn. Shiny, 15-20" tall dark green foliage contrasts dramatically with the brilliant blooms, and remains lush even on sweltering summer days. Pest and disease resistant, Lady Lucille is eyecatching when planted singly, and breathtaking in a mass display. Hardy USDA Zones 4-10. PPAF.
"Chorus Line"
| | |
| --- | --- |
| | Compact Height - Blooms at 18-22" |
| | 30-120 Bloom Days per Year (Average 50 Days) |
| | Beautifully Formed, Fragrant Blooms |
| | Tidy Foliage Provides Beautiful Border |
Masses of blooms offer a splendid display of color for this All-American winner in the Exhibition category. Fragrant, well-formed round blooms with wide ruffled petals. The 3-4" blooms are medium pink with a darker rose band around a small chartreuse throat, borne on well-branched, 20-25" tall scapes. Blooms start early in the season and rebloom in USDA Zone 6 and up (two rebloom cycles in Zone 9-10). Tidy 15-20" tall foliage and delicate bouquets of blooms provide a cheerful greeting along a garden path, in a pot or at the front of the perennial bed. A nice edging for rose beds. Deciduous foliage is cold hardy down to at least USDA Zone 4.Hardy USDA zones 4-10.
ABOUT AADSC
The soaring popularity of daylilies, combined with the bewildering profusion of varieties and growing characteristics, demanded the development of a standard for daylily excellence. The All-American Daylily Selection Council, organized to address this demand, now coordinates a testing program which evaluates daylilies on over 50 performance characteristics across a nationwide network of test sites. This rigorous testing has produced comprehensive and surprising results. Who would have thought, for example, that a daylily bred in Texas would have been a top bloomer in Wisconsin, or that one from Missouri would perform so well in the heat of Southern California?

There are more than 48,000 daylilies registered, bred in at least 25 states, by hundreds of individual hybridizers. Using its elaborate testing program, the AADSC sorts through the thousands of registered daylilies and awards to only the top performers across five USDA hardiness zones the coveted title of "All American."

Each year's scores are measured against all previous test data in order to ensure that the All-Americans are truly the best performers in their color category. Daylilies are tested for at least two years, with All-American finalists being grown for another three to five years in open field conditions before being announced.

2003 marks another year of new All-American daylily winners offering gardeners throughout the country a steady stream of these tried and tested perennial beauties. Gardeners nationwide can expect to see these proven daylilies at their garden center and grow them successfully in virtually any garden in America. Backed by scientifically proven superior performance nationwide, All-American Daylilies are becoming America's preferred perennial.
For more information, please e-mail The Gardening Guru at gardeningguru@juno.com