David Daehnke, The Gardening Guru
Mahwah, NJ 07430
gardeningguru@juno.com
The 2005 All American Daylily Winners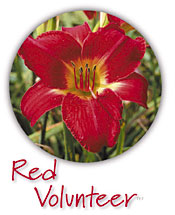 "RED VOLUNTEER"
| | |
| --- | --- |
| | Large 7" Blooms with Heavy Substance and Tailored Form |
| | Good Rust Resistance |
| | Stately Presentation for Mid to Back Border |
| | Velvety, Crimson Red Blossoms |
| | Full Sun or Partial Shade |
This 2005 winner in the Exhibition category has striking eye appeal! Mega-sized 7" red blooms have heavy substance and smooth velvety texture. The scapes are strong very well-branched and produce plentiful buds. It blooms at 29-33" tall in mid-season and continues its color display for 6-8 weeks. It is recommended foe USDA zones 4-9.

<![if !supportLineBreakNewLine]>

<![endif]>
"MISS MARY MARY"
| | |
| --- | --- |
| | Compact Border Plant |
| | Excellent Rust Resistance |
| | Repeat Blooms like Stella de Oro |
| | Double Blooms on Repeat Cycles Until Frost |
| | Cold Hardy and Heat Tolerant |
This All-American in the Landscape category begins blooming very early in the season with single petalled small blooms atop 12-17" stems. These early blooms are look-a-like for the parent plant, Stella de Oro. Fluffy, double petalled blooms begin appearing with increasing numbers on repeat bloom scapes throughout the summer, and until frost. The plant foliage is 12-16" tall by 18-22" wide and has grassy winter dormant foliage. Its compact habit makes it a great border or container plant. It is recommended foe USDA zones 4-9.
ABOUT AADSC
The soaring popularity of daylilies, combined with the bewildering profusion of varieties and growing characteristics, demanded the development of a standard for daylily excellence. The All-American Daylily Selection Council, organized to address this demand, now coordinates a testing program which evaluates daylilies on over 50 performance characteristics across a nationwide network of test sites. This rigorous testing has produced comprehensive and surprising results. Who would have thought, for example, that a daylily bred in Texas would have been a top bloomer in Wisconsin, or that one from Missouri would perform so well in the heat of Southern California?

There are more than 48,000 daylilies registered, bred in at least 25 states, by hundreds of individual hybridizers. Using its elaborate testing program, the AADSC sorts through the thousands of registered daylilies and awards to only the top performers across five USDA hardiness zones the coveted title of "All American."

Each year's scores are measured against all previous test data in order to ensure that the All-Americans are truly the best performers in their color category. Daylilies are tested for at least two years, with All-American finalists being grown for another three to five years in open field conditions before being announced.

2003 marks another year of new All-American daylily winners offering gardeners throughout the country a steady stream of these tried and tested perennial beauties. Gardeners nationwide can expect to see these proven daylilies at their garden center and grow them successfully in virtually any garden in America. Backed by scientifically proven superior performance nationwide, All-American Daylilies are becoming America's preferred perennial.
For more information, please e-mail The Gardening Guru at gardeningguru@juno.com